Rockefeller Collar with Amethyst Swarovski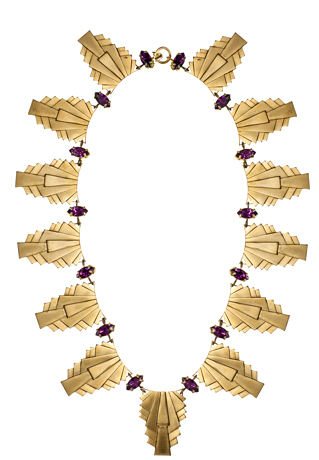 Rockefeller Collar with Amethyst Swarovski
Rockefeller Collar with Amethyst Swarovski
The Roaring 10's Collection

Intricately sculpted brass deco pendant
Adorned with brilliant purple Amethyst Swarovski Crystals
Finished with Spring Ring Clasp and Closure
Hand-made in New York City

Manhattan Landmark - The Rockefeller Center
One of the most prestigious office complexes on Manhattan Island, Rockefeller Center is the centerpiece of activity for thousands of New Yorkers who have embraced it as a warm symbol of a great city. Named after its developer, America's first billionaire, john d. Rockefeller, it's the largest private building project ever undertaken in modern times. The centerpiece of Rockefeller Center is 30 Rockefeller Plaza ("30 Rock"), centered behind the famous sunken plaza and its highly recognizable bronze gilded statue of the Greek legend Prometheus. There are now 21 buildings in Rockefeller Center, housing such popular places as Radio City Music Hall, the Rainbow Room, and the of NBC's shows like "Today" and "Saturday Night Live."